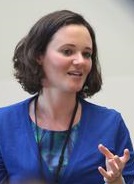 Margot E. Kaminski is an Associate Professor of Law at Colorado Law. She teaches, researches, and writes on law and technology. Her work has focused on privacy, speech, and online civil liberties, in addition to international intellectual property law and legal issues raised by AI and robotics, with a focus on domestic drones (UAS). She received a 2018 Fulbright-Schuman Innovation Grant to study comparative and transatlantic approaches to sensor privacy (IoT, drones, robots) in the EU.
Kaminski is a graduate of Harvard University and Yale Law School. While at Yale, she co-founded the Media Freedom and Information Access Clinic (MFIA), a law school clinic dedicated to increasing government transparency, defending the essential work of news gatherers, and protecting freedom of expression. She was a law clerk to the Honorable Andrew J. Kleinfeld of the Ninth Circuit Court of Appeals in Fairbanks, Alaska. She worked at a literary agency prior to law school, and has worked at Creative Commons and the Electronic Frontier Foundation. From 2011-2014 Kaminski served as the executive director of the Information Society Project at Yale Law School, an intellectual center addressing the implications of new information technologies for law and society. She remains an affiliated fellow of the Yale ISP. From 2014-2017, Kaminski was an Assistant Professor of Law at The Ohio State University Moritz College of Law.
Kaminski's academic work has been published in the UCLA Law Review, Minnesota Law Review, Boston Law Review, Washington Law Review, and Southern California Law Review, among others. She has been interviewed by NPR and other media outlets, and published in the New York Times.